It is important to act fast after a fire occurs on your property.
We understand the need for prompt action after a fire to minimize the damage. When the smoke clears, damage to your house or commercial property can still occur. The heat and smoke from a fire trigger a variety of chemical reactions in materials often found in contents, furniture or flooring. Items in your home or business quickly deteriorate from cleanable to unsalvageable. Prompt cleanup service helps mitigate additional damage that may occur after a house fire or commercial fire.

We handle the damage restoration process from beginning to end!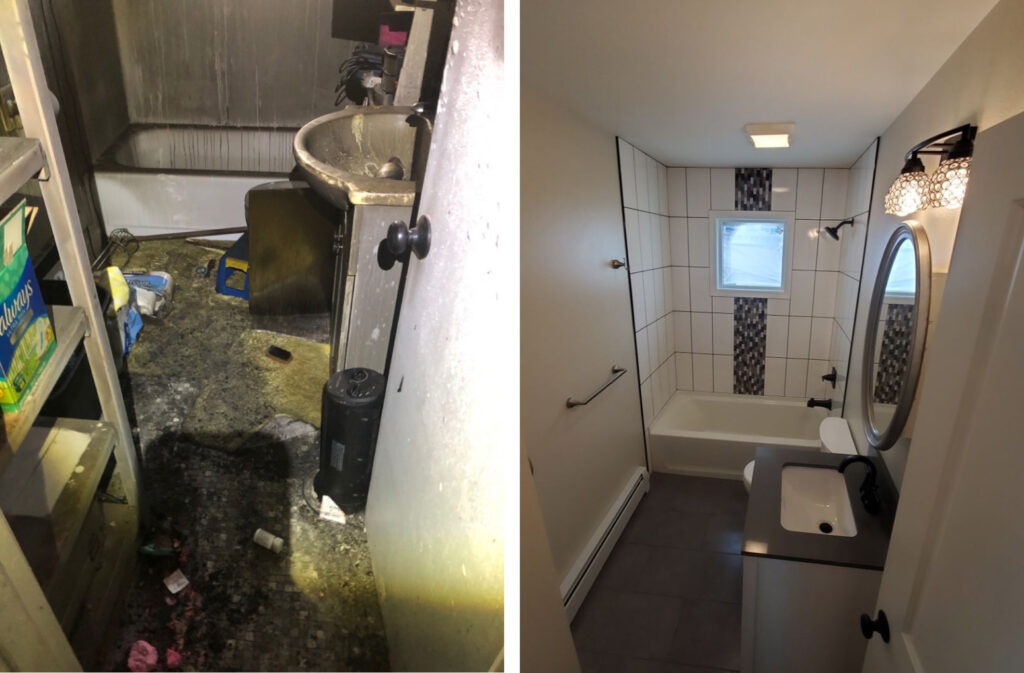 We provide on-site assessment and put into place an Emergency Response Plan specific to your home or business restoration needs.
Our Emergency Response Mitigation Specialist are Prepared 24-hours, 7 days a week and all holidays.
Our experienced and highly-trained professionals use scientific methods and technology to clean and salvage belongings damaged by fire and smoke in your home or business. Effectively removing smoke and soot from at-risk items, such as: brass, aluminum, chrome, marble, tile, and porcelain, as well as fabrics, upholstery and carpets and much more.
Demo / Debris Removal
Emergency Board-up
Clean-up / Dry-out Services
Content Mitigation / Pack-out
Smoke Remediation (smoke / soot removal from structure and contents)
Repairs and Reconstruction
Fire and Flood Service Inc. is a full service general contractor for residential and commercial restoration. We communicate with you and your insurance company every step of the way.
Our goal to make the restoration process as comfortable as possible for our clients.
Don't wait! Prompt action will minimize damage to your property.
When the smoke clears, damage to your house or property can still occur. Speak to a qualified fire damage restoration technician today.


WHAT CAN I DO AFTER FIRE, SMOKE OR SOOT DAMAGES MY PROPERTY?
What to do
Call us immediately! (907) 344-4412.  If it is an emergency, we will promptly dispatch a professional emergency restoration services team.  Otherwise, we will schedule an appointment to meet with you at the property and initiate a plan to restore your fire damaged property.
Be safe and use caution when entering a damaged area. If the area is unsafe, wait for our fire damage restoration technicians to evaluate the situation when we arrive.
Once the area has been deemed safe, remove personal belongings that are immediate concerns, such as medication or extra clothing.
When we arrive, you will need to sign an authorization form before we can begin work.
What NOT to do
Do not rush into an area without assessing your personal safety first.
Do not attempt to cleanup the area yourself without first consulting our fire damage restoration technicians. Some types of damage require special considerations, chemicals and equipment to cleanup and repair properly.  If you attempt to cleanup the area yourself, you may accidentally cause worse damage to structures and contents that have been affected by chemical reactions to fire, smoke or soot.