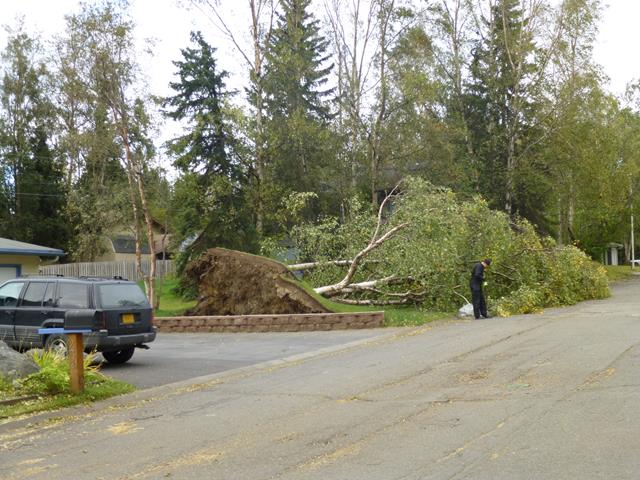 WE RESPOND 24 HOURS A DAY TO STORM OR WIND DAMAGE EMERGENCIES.
Storm and wind damage to your property can be devastating and stressful.  As a homeowner, exposure to the elements can make your property unlivable.  As a business owner, structural damage to your property can mean lost revenue, lost customers, and lost inventory.  In all scenarios, the process of restoration and repair to your property can be uncomfortable and inconvenient, disrupt daily activities, and significantly impact your wallet.
We understand and care about your concerns.  Our personable, professional and experienced damage restoration team is on call 24 hours a day to remediate and repair any damage to your property caused by storm or catastrophic events.

WE ACT FAST TO CLEANUP AND REPAIR YOUR PROPERTY.
From the moment a storm or wind disaster strikes your house or business, the damage has only just begun.  Damage continues through exposure to the elements and sometimes vandalism.  Additional damage can occur from broken pipes, electrical damage, etc.  Water and smoke damaged items can quickly become unsalvageable without swift, effective action. We understand the need to work fast and a prompt response is our priority.
We work quickly to mitigate your loss and prevent further damage to your house or commercial property. We understand that homeowners, insurance companies and businesses want professionals who can rescue as many belongings as possible while minimizing disruption. We offer quick response, accurate estimate and quality cleanup and repair.  Each job is performed using the highest professional standards.
Don't let your business and property become casualties during a disaster such as extreme wind, storms, or floods. Get back to life or business fast with a full range of storm restoration and 24 hour emergency response services from the experts at Fire & Flood Services Inc.

Our Storm or Wind Damage Restoration Services
Catastrophic Emergency Services
(24 Hour Response)

Emergency Board Up
Water Extractions & Dry-out

Storm

Roof Cover Up
Temporary Water Proofing
Complete Restorations

Other Services Include

Water Damage Restoration
Mold Remediation
Fire Damage Restoration
Don't wait! It is important to act swiftly to prevent further damage to your property.
We can help. Find out more by speaking to a qualified storm damage restoration technician.


WHAT CAN I DO AFTER STORM OR WIND DAMAGES MY PROPERTY?
What to do
Call us immediately! (907) 344-4412.  If it is an emergency, we dispatch a team promptly to provide emergency services.  Otherwise, we will schedule an appointment to meet with you at the property and initiate a plan to restore your storm damaged property.
Be safe and use caution when entering a damaged area. If the area is unsafe, wait for us to evaluate the situation when we arrive.  Turn off the electricity before entering an area that has been damaged by a storm or has standing water.
Once the area has been deemed safe, remove personal belongings that are immediate concerns, such as medication or extra clothing.
When we arrive, you will need to sign an authorization form before we can begin work.
What NOT to do
Do not rush into an area without assessing your personal safety first.
Do not attempt to clean the area yourself without consulting our professional damage restoration experts. Some types of damage require special considerations, chemicals and equipment to clean and restore properly.