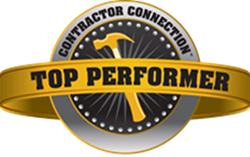 TO: FIRE & FLOOD SERVICES INC.
FROM: LARRY C. THOMAS, CEO
CRAWFORD CONTRACTOR CONNECTION
DATE: MAY 5, 2017
SUBJECT: TOP PERFORMER AWARD
Congratulations! Your company is being recognized as a Contractor Connection Top Performer for 2016.
All winners of this award will be provided special recognition during the general session at the 2017 Contractor Connection Conference & Expo in St. Louis,
June 6-8. Also conference attendees from your company will receive a special "Top Performer" ribbon and a "Golden Hammer" lapel pin.
Top Performer Award winners will be invited to send two representatives to a special Top Performer Symposium event September 21 and 22 in Chicago hosted by Contractor Connection.
The Top Performer Award is provided each year to our performance leaders based on overall excellence measured by estimate upload TIP, customer service scores, professionalism in communication, cooperation, and overall POMS scores.
Please pass on our thanks and congratulations to all of your staff members. Best of luck for continued long term success.
Your dedication to quality and excellence in service is much appreciated.